At this stage you'll say goodbye to Navarra and begin a new and exciting adventure into the second big city you'll find along the way. Logroño is waiting you with a huge tourist offer and an incredible gastronomy.
The first three kilometers will be a real rollercoaster, with ups and downs that will test you. But, apart from these, the rest will be a comfortable way without slope through a changing landscape because you are already getting into Castilla. You will see that the Alpine landscape that you were accustomed to starts to change into a Mediterranean drier landscape. We are in the smallest region of Spain but no less rich in scenery and of course not in gastronomy, one of the tastiest that we will find along the way. Trying everything in one day will be very difficult so from here we give some simple tips to really nail it!
Having pinchos in Calle Laurel (Logroño):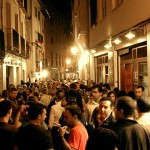 Surely you've heard of this street, one of the most famous pinchos streets in Spain and one of the main attractions of every walker. More than 40 bars are waiting for you to try small snacks with the best of the Rioja cuisine. The perfect plan to have dinner out is a walk through the streets of Logroño downtown, move between bars, out of one into another, and so to try each one of the many small deli. From here we are going to make a list so you do not forget to try the best pinchos and the best restaurants.
El Tío Agus: What? Haven't you heard of Tio Agus' Bocaditos? If so, as soon as you try them you will not forget…moorish meat on a secret sauce with a slight spicy taste. A must seen. One of their pinchos and accompanied by a Tilenus wine, make the perfect combination for having a great day in Logroño!
El Soriano: Famous for getting like none the exact point of the grilled mushroom, you can not leave Logroño without stopping by. It is widely regarded as the site with the best pincho across calle Laurel. For sure that this will surprise you.
El Ángel: Also specialized in mushrooms, but in this case, this consists of three mushrooms bathed on a secret garlic sauce. We do not know what you'll have in your mind but with the size of these mushrooms, it is complicated to eat a third pincho! It will be very difficult to decide between these two bars specialized in mushrooms.
La Tavina: A tavern where you will find the best fresh local products. Divided into three floors, the first one is dedicated to the pinchos, in the second you will find a great room where you can sit at the table and in the third, an incredible wine cellar with over 500 references. A cozy one of the best riojanas kitchens. Fully recommended.